Hy-Vee Carrying The Omaha Bakery KETO Donuts
The Omaha Bakery is expanding its KETO products again. In partnership with Hy-Vee food stores, selected locations across Nebraska have decided to start carrying KETO donuts from The Omaha Bakery.
There is a growing demand for convenient, low-carb donuts throughout the country, and The Omaha Bakery thought something should be done about that.
Locations Participating
Hy-Vee locations in Omaha, Elkhorn, Bellevue, Lincoln, and Grand Island have started carrying Kaiser's trademark KETO donut. The list of Hy-Vee locations carrying KETO donuts from The Omaha Bakery:
Lincoln Hyvee
Superior & 27th St
Central Omaha Hyvee
5150 Center St
Grand Island Hyvee
115 Wilmar Ave
Bellevue Omaha Bakery
10503 S 15th St Suite 109
Elkhorn Omaha Bakery
725 N 210th St
Four Guiding Principles of Keto
Not familiar with KETO? Here are four guiding principles of KETO.
All of the KETO products at the Omaha Bakery are designed according to our four guiding principles: Nutrition, Convenience, Taste, and Affordability. It's important that every consumer trusts the ingredients The Omaha Bakery has used in the production of their sweet treats.
Nutrition. Almost every product The Omaha Bakery makes contains less than 1.5 grams of net carbs per 100 calories. Unlike most bakeries in Omaha, we start from the nutrition and work backward. The difference is remarkable.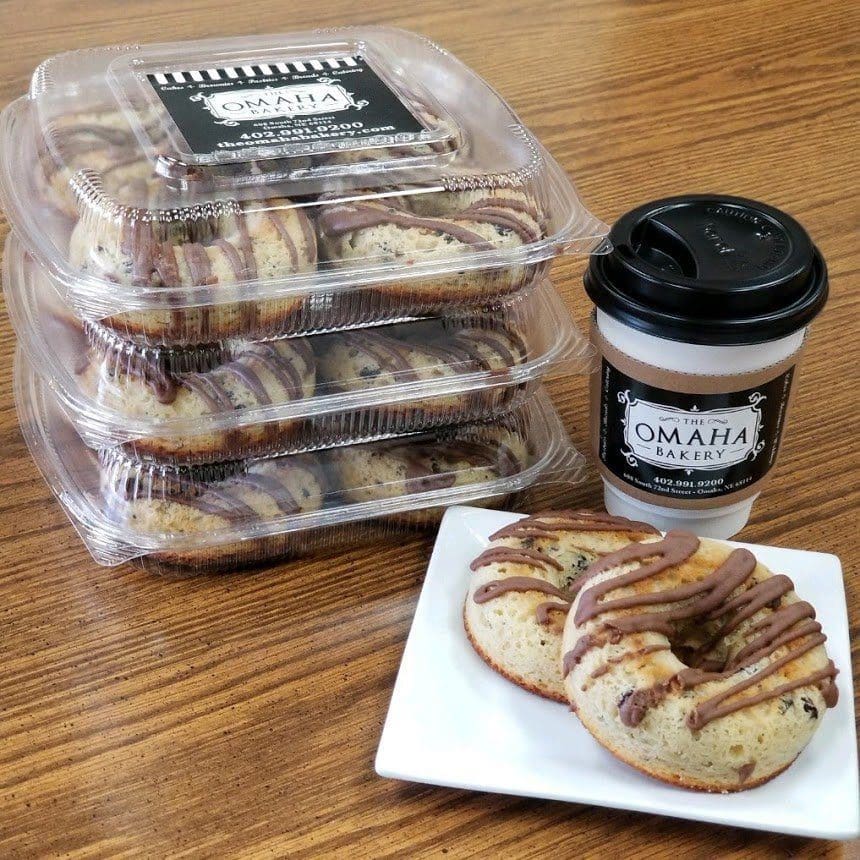 Convenience. The Omaha Bakery desserts are designed to fit a busy lifestyle, can be made in a pinch, and easy to store. We offer call ahead service or you can stop by the bakery and grab one of our grab and go packs! The Omaha Bakery is also offering prepared keto meals for the busy consumer.
Taste. If it doesn't taste good, you won't want to eat it. Their chef-inspired recipes use only the highest-quality ingredients, are thoroughly tested, and constantly improved upon. The result is pure deliciousness. If it doesn't taste like a donut, it's not a donut! The Omaha Bakery recently rolled out their line of KETO donuts and they've been a hit!
"The Omaha Bakery has gone out of their way to design a #KETO inspired donut that is simply delicious." ~ KETO Nation
Affordability. We make a variety of foods at a variety of prices, and while our products are often more expensive than the high-carb alternatives, we're always working to make our products more affordable. It's important for the consumer to know that the low carb ingredients are often significantly more expensive. Despite the higher production costs, we do everything we can to make sure that no one is priced out of eating well.
Other Bakery Products
"The response was overwhelming," said Michelle Kaiser. The Omaha Bakery shipped to destinations as far as California, Florida, and everywhere in between.
The Omaha Bakery now offers more than 45 KETO products to the Omaha metro area. They regularly encourage their customers to share their KETO or low-carb lifestyle stories with team members. Kaiser believes that everyone needs encouragement along the way and that you don't have to sacrifice enjoyment to treat your body well.
Kaiser and her KETO team also recognize the challenges of everyday families who are living a KETO lifestyle and that's why they recently launched weekly prepared KETO meals. The response has been nothing short of incredible. Kaiser and her KETO team are only offering one meal option per week but is expected to expand meal plan options in the coming months.
It's going to be quite the journey – we're excited to partner with Hy-Vee throughout Nebraska and beyond.
One thing is for sure, Kaiser and her world-famous bakery are breaking new ground in the KETO world.