World Champion, Blane Hunter, goes exclusively American Wagyu in his Omaha restaurant! Scheduled to begin selling on November 5th.
Since opening Porky Butts BBQ just a few short months ago, owner Blane Hunter has already been making waves in the local restaurant community and is not holding back as he is about to turn the Omaha BBQ scene on its ear, exclusively offering the highest premium American Wagyu brisket from world-renowned Snake River Farms, to his customers. While American Wagyu, known for its magnificent marbling and unsurpassed tenderness is known to be used on the competition circuit. Hunter is swinging for the fences, however, and is laser-focused on his dream to bring the same quality and perfection to his Porky Butts BBQ customers, that he was able to achieve while compiling one of the most impressive resumes as a World Champion on the competition BBQ circuit.
To say that Hunter knows his way around word-class BBQ is an understatement, and he has been honing his craft nearly all of his life. As a youngster in south Texas, Hunter was learning his way around BBQ pits by the age of five, tending fires and monitoring temperatures as part of his Dad's passion for "low and slow" pit smoking at countless chili cook-offs and BBQ competitions. It was no surprise that Hunter followed that passion and entered Culinary School after high school, and found himself using one of his Dad's old pits from the '80s to cater for corporate events, often not even charging and doing it simply for the love of BBQ. In 2013, Hunter entered the world of competition BBQ, and after 27 years of experience and education, he and his Porky Butts team have perfected the art of unparalleled BBQ.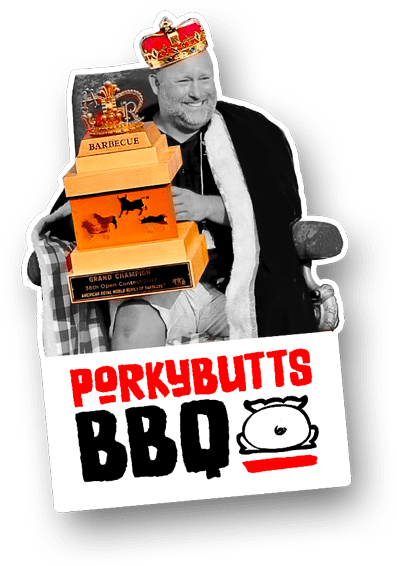 Among his lengthy list of accomplishments that include 22 Grand Championships in 9 different states, and 7 Reserve Grand Championships, Pit-Master Hunter and his Porky Butts team became the number one team in the country among nearly 5,000 competitors, and won the 2016 KCBS National Grand Champion, Team of the Year. The following year, he became the 2017 Open World Champion in what is widely known as the "World Series of BBQ", the American Royal. Two months later, Hunter's team was among the world's top 24 invited to the prestigious King of the Smoker competition, and in Porky Butt's fashion, they came away as the King of the Smoker Brisket Champion as well as the King of the Smoker Grand Champion.
Why American Wagyu?
American Wagyu beef is some of the most prized beef in the world, and for good reason. Its rich marbling and buttery taste is unique to the particular breed, highly sought after, and priced at a premium. American Wagyu fat melts at a lower temperature, making it perfect for that low and slow style, and results in a unique, buttery taste that you just don't find with traditional, Angus beef. This is why world-class Pit-Masters seek to use it in competition, but is it is rare to find such quality beef in a BBQ restaurant. Hunter, however, knew that if he wanted to pursue his dream of offering the same world-class competition BBQ experience to his restaurant customers, he had to find a way to offer American Wagyu. Nearly one year ago, he began to seek out a solution and his search led him to Snake River Farms, a business that has been family owned for over 50 years.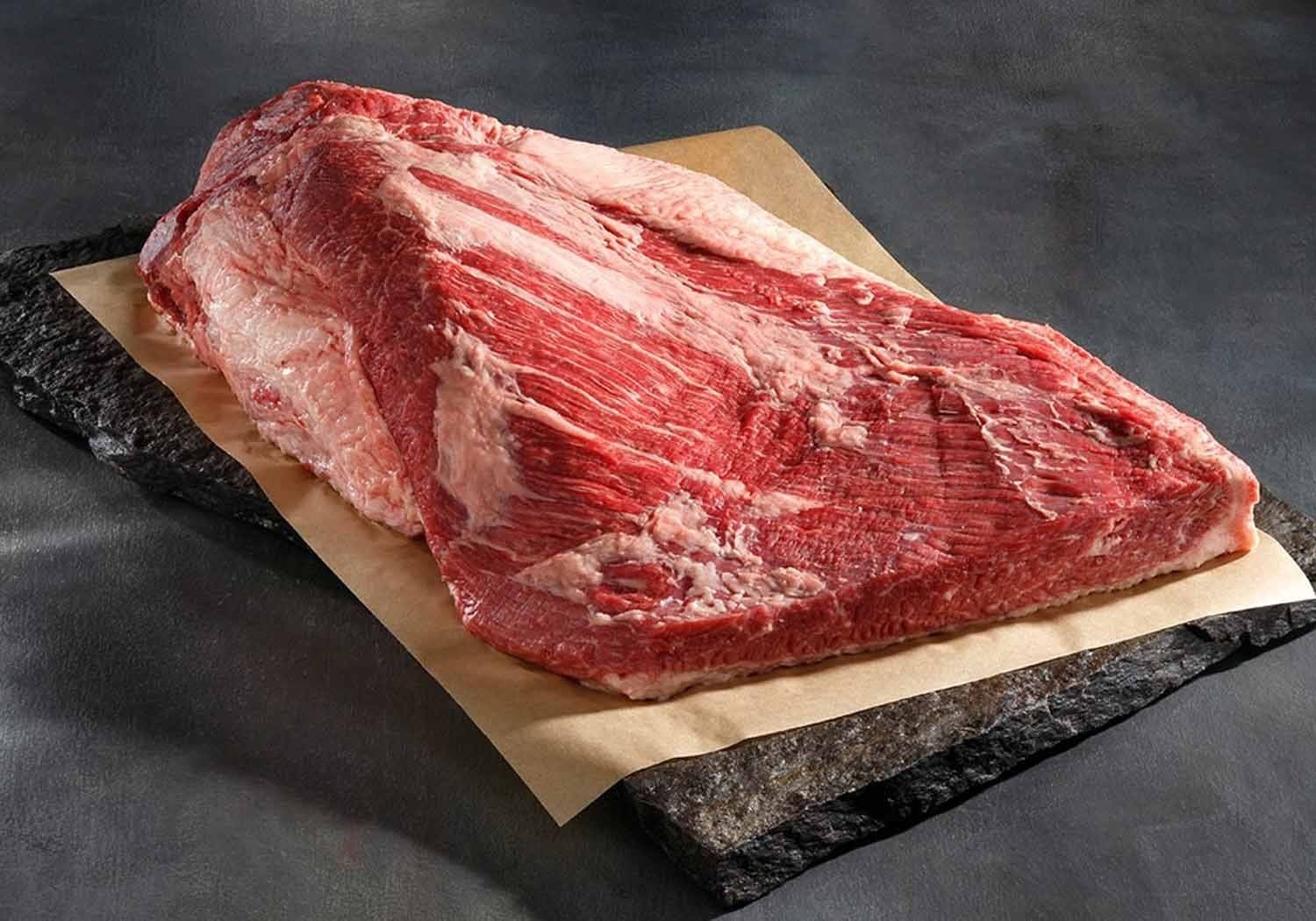 We approach our business with an eye on the long haul, not short-term gains. We take pride in doing what's right – for our animals, our environment and our customers. We're one of the only beef companies in the world that personally touches every aspect of production from start to finish. – Snake River Farms
While doing his research to find the very best on behalf of his own customers, Hunter had the opportunity to visit Snake River Farms personally, and was invited to the Corporate office in Boise, ID, as well as having the opportunity to fully tour and inspect one of its locations in Washington, meeting CEO, Robert Rebholtz, Jr. "It was clear to me that Snake River is a family…" Hunter said. " … not only did the owner know the names of every employee, but I could tell that the people there enjoyed their jobs, and the culture was incredible. I had the chance to speak and interact with everyone from the CEO to the Ranch Hands". Hunter was not only impressed with the people, but with the facility, its processes, and most importantly, the consistency of producing the highest quality American Wagyu. His search was over, and Porky Butts was bringing that impeccable quality to Omaha. "The quality of this meat is simply incredible…" Hunter said. "I know what I'm starting with, every time".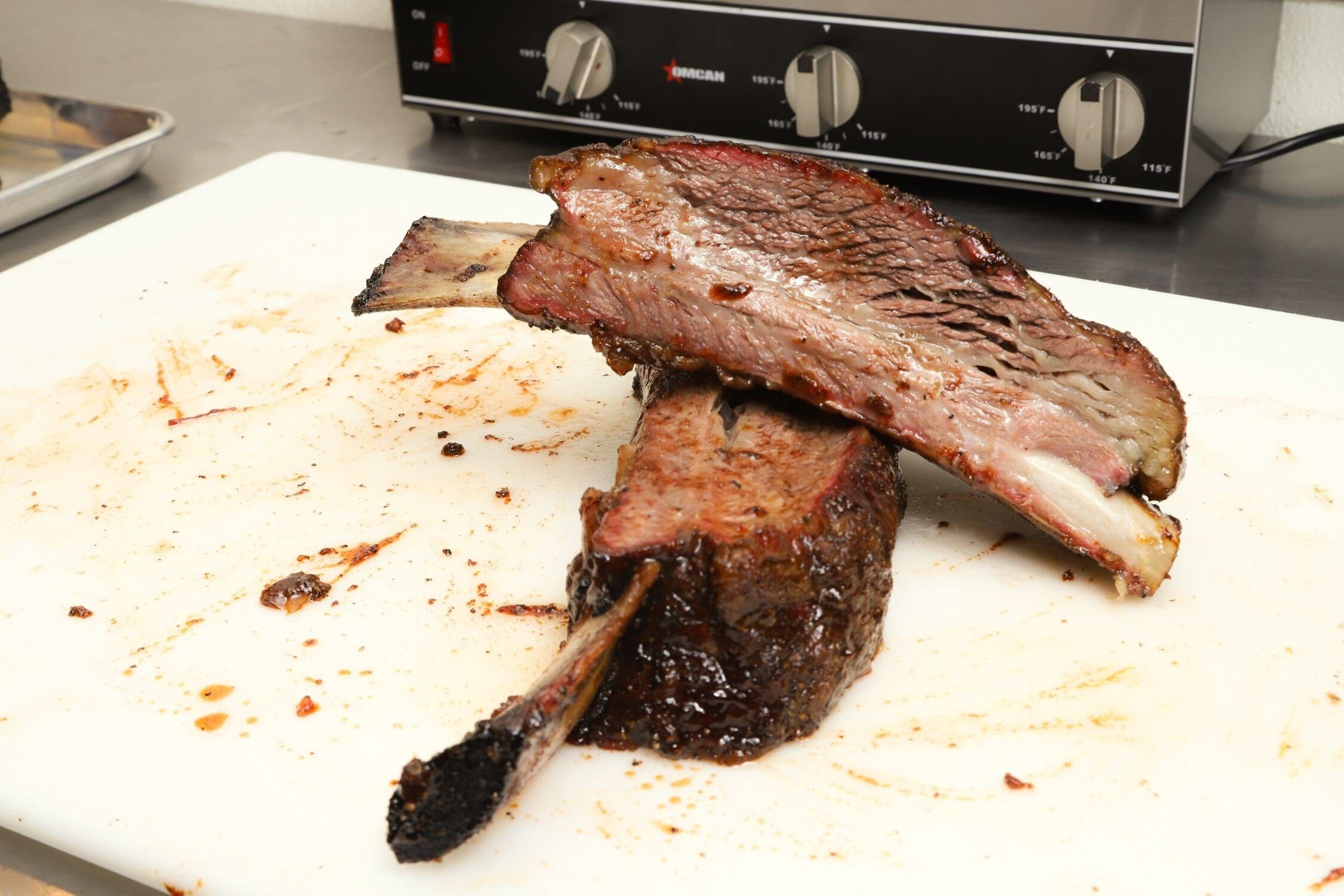 Chef Michelle Alfaro
The Omaha Food Magazine crew had an opportunity recently to participate in an exclusive tasting of the new Porky Butts American Wagyu offering and invited Omaha Chef Michelle Alfaro along for her expertise and candid review. When asked for her impression, Chef Alfaro immediately stated that Porky Butts is "Incomparable to any other place, and unlike any other BBQ experience I've ever had, and I've had a LOT of BBQ." Chef Alfaro described the Wagyu brisket as having a "Robust, American beef flavor, and intricate marbling of Wagyu with a delicate smoke, and not over-pronounced". She added that it was also "…buttery and melts in your mouth". The Omaha Food Magazine could not concur with her more, and the sampling continued throughout our visit.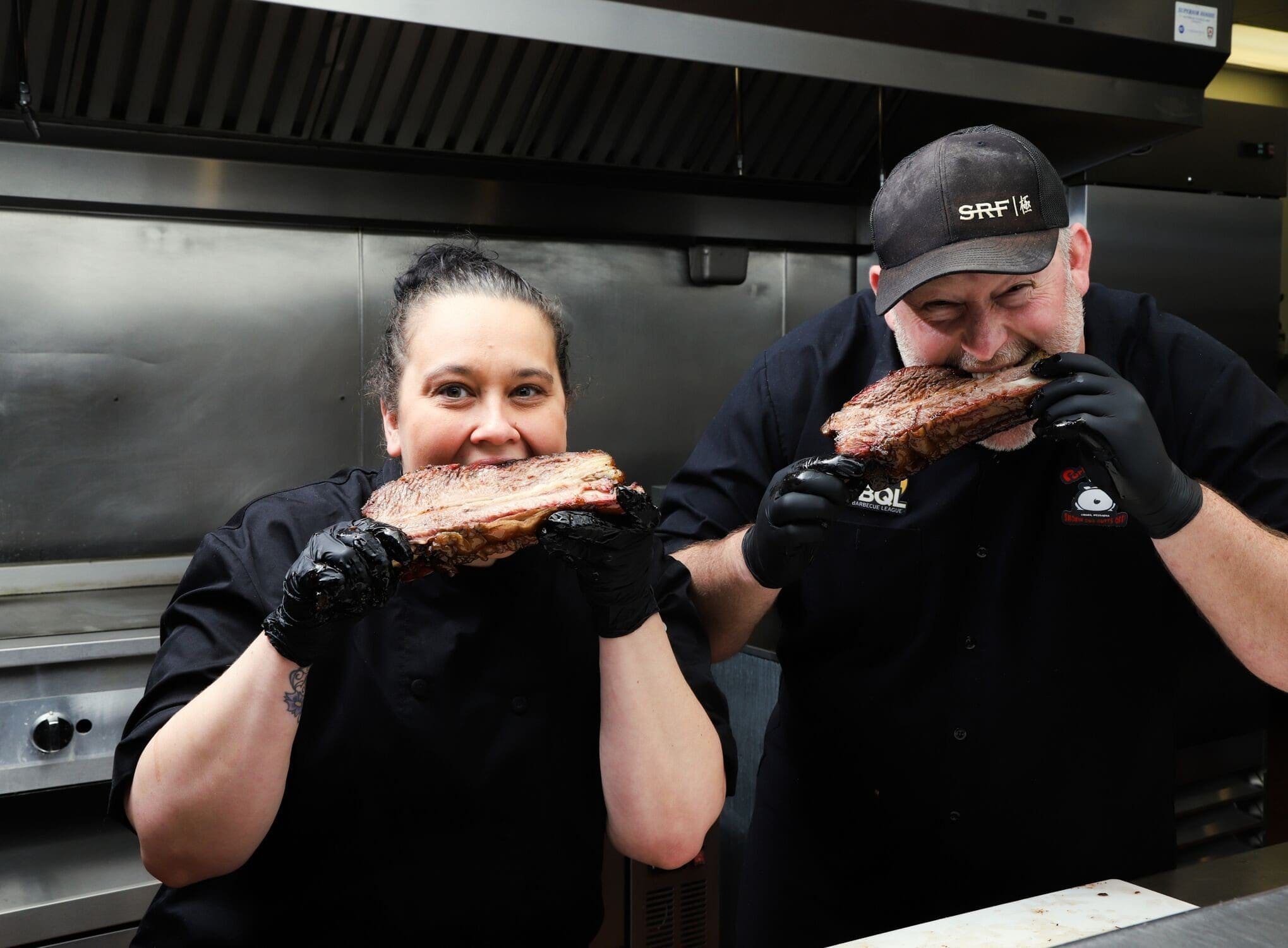 When you visit Porky Butts, located just north of 156th and Maple, you'll find a welcoming, family-friendly atmosphere and perhaps a few of the hundreds of trophies and awards that Porky Butts has won along the way, some as tall as you. The menu is extensive and full of all your favorites that you may expect from a top-notch BBQ joint, such as shareables, hand-helds, plates, platters, and sides. There's even a Lil' Butts menu for kids 12 and under. Porky Butts also has a party room for just over 50 people.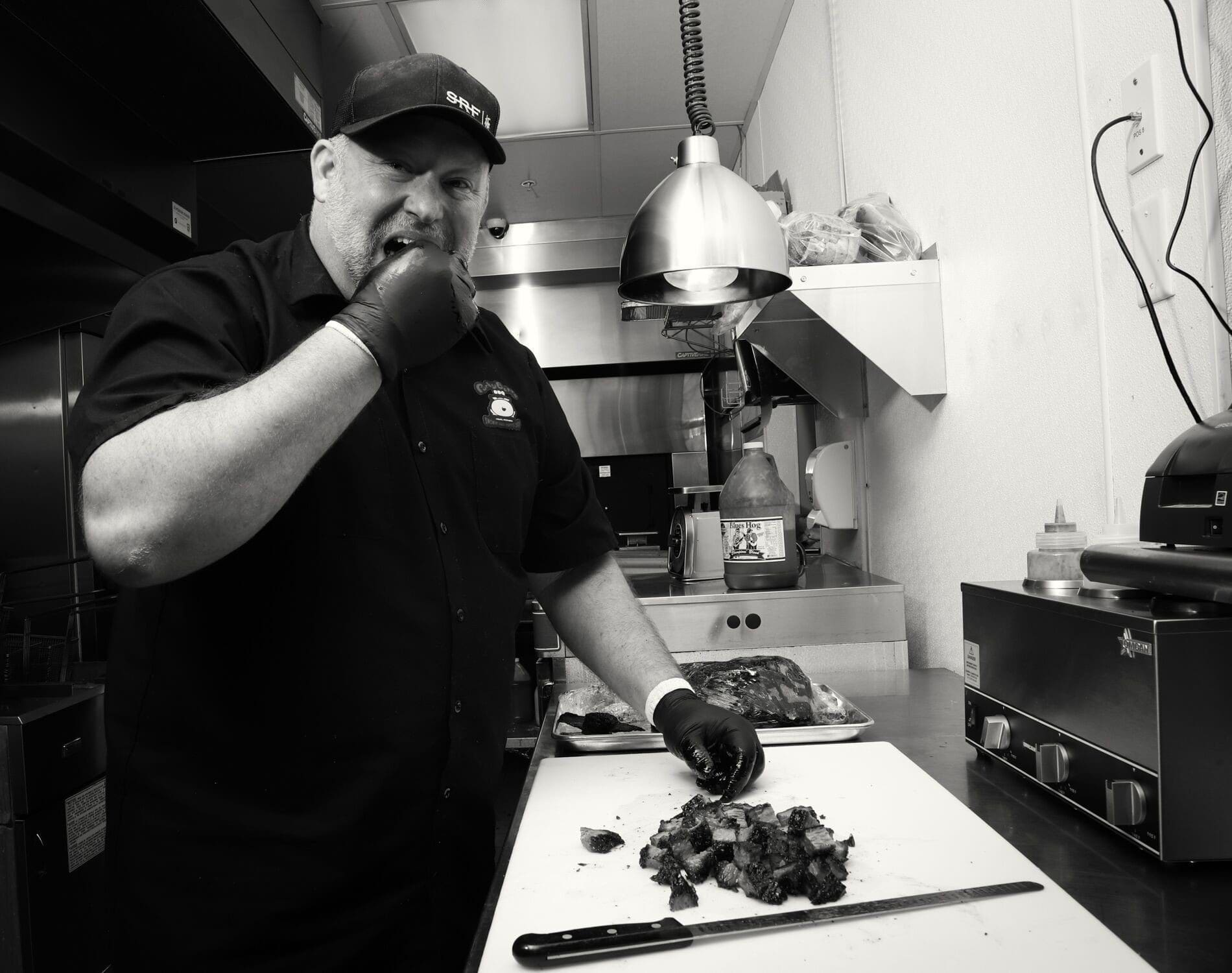 The entire menu is not only delicious, but reasonably priced, and as the star of the show, the American Wagyu Brisket is no exception. The brisket is soon to be exclusively American Wagyu, and priced the same as you would find traditional Angus Brisket. Blane Hunter is resolute in his desire to provide that premium, competition, perfect score experience to his customers without the added cost. If you have already been a fan of the Porky Butts Choice brisket, you'll LOVE the American Wagyu brisket. If this particular visit is any indication, which included the casual BBQ fans, avid enthusiasts, and competition level connoisseurs, the resounding result was the best brisket they've ever tasted.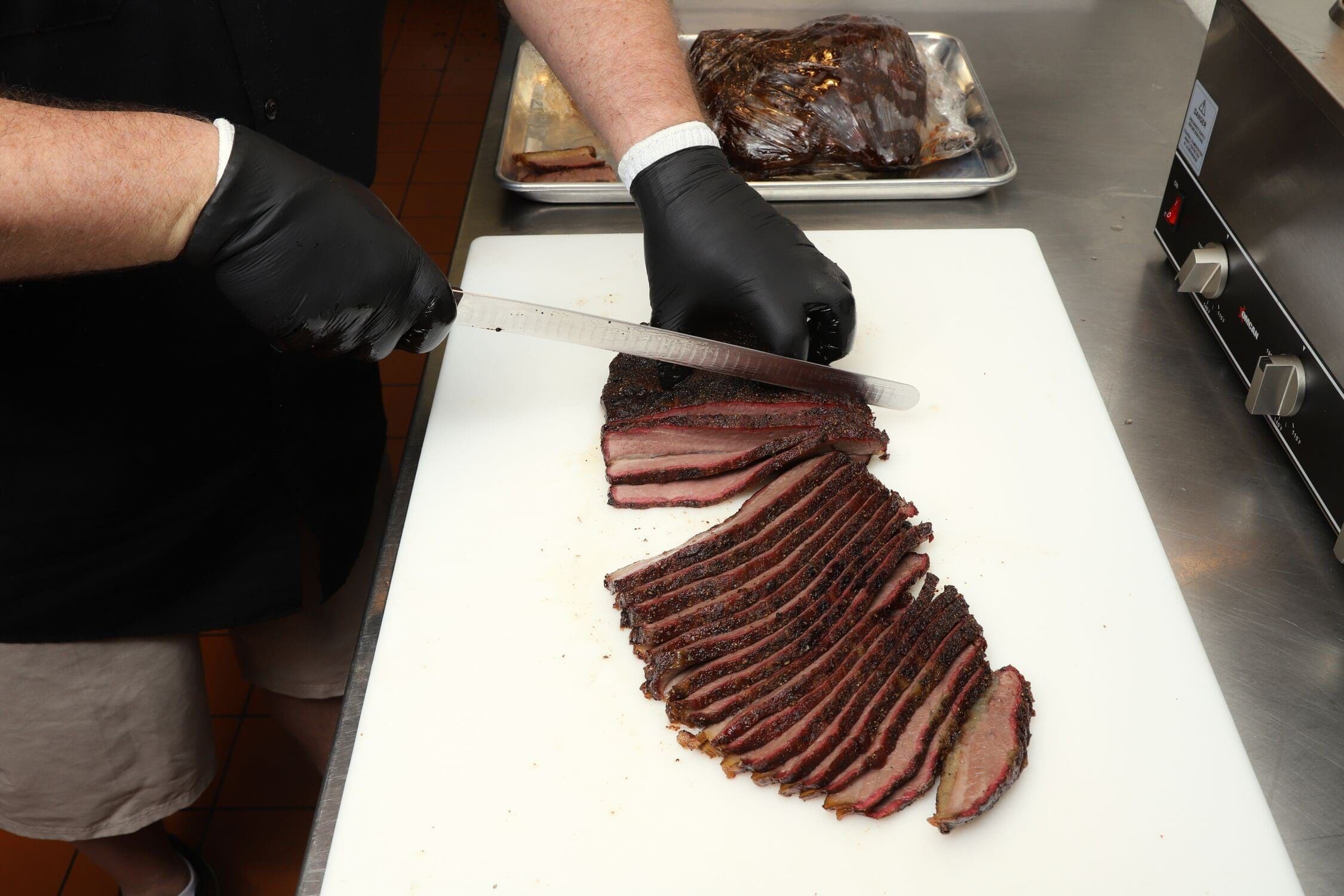 Porky Butts BBQ will begin serving their American Wagyu to the general public on Sunday, November 5th. Stop in. You'll be glad you did.