Unveiling Tupelo Honey's unique ambiance in the Midwest. Omaha, Nebraska, a city known for its warm hospitality and culinary diversity, has recently welcomed a Southern gem to its dining scene. In the spirit of Anthony Bourdain, we embarked on a journey through Omaha's downtown to discover what makes Tupelo Honey stand out. Delaney Fisher, of our Omaha Food Magazine team, shared some intriguing insights, and we were eager to explore her observations.
A Warm Welcome
Delaney Fisher painted a vivid picture of Tupelo Honey, describing it as "an experience unlike anything I've encountered in Omaha thus far." As we stepped into the restaurant, her words echoed in our minds. Tupelo Honey truly exudes a genuine warmth from the moment you enter.
An experience unlike anything I've encountered in Omaha. ~ Delaney Fisher
The inviting staff, the lively bar, the vibrant patio, and the cozy booths all blend seamlessly to create an atmosphere that perfectly marries homeliness with a refreshing escape.
The ambiance of the space, as Fisher noted, was "undeniably beautiful." It's a space that beckons you to linger, savor, and relish every moment.
Culinary Delights: Must-Try Comfort Foods
Fisher's culinary recommendations were spot-on, and we couldn't wait to dive into Tupelo Honey's menu. She highlighted the baked mac and cheese as a must-try comfort food, and we wholeheartedly agreed. The combination of creamy cheese and perfectly cooked pasta was a comforting embrace on a plate. And of course, alongside comfort foods like this, Tupelo Honey's biscuits were a must.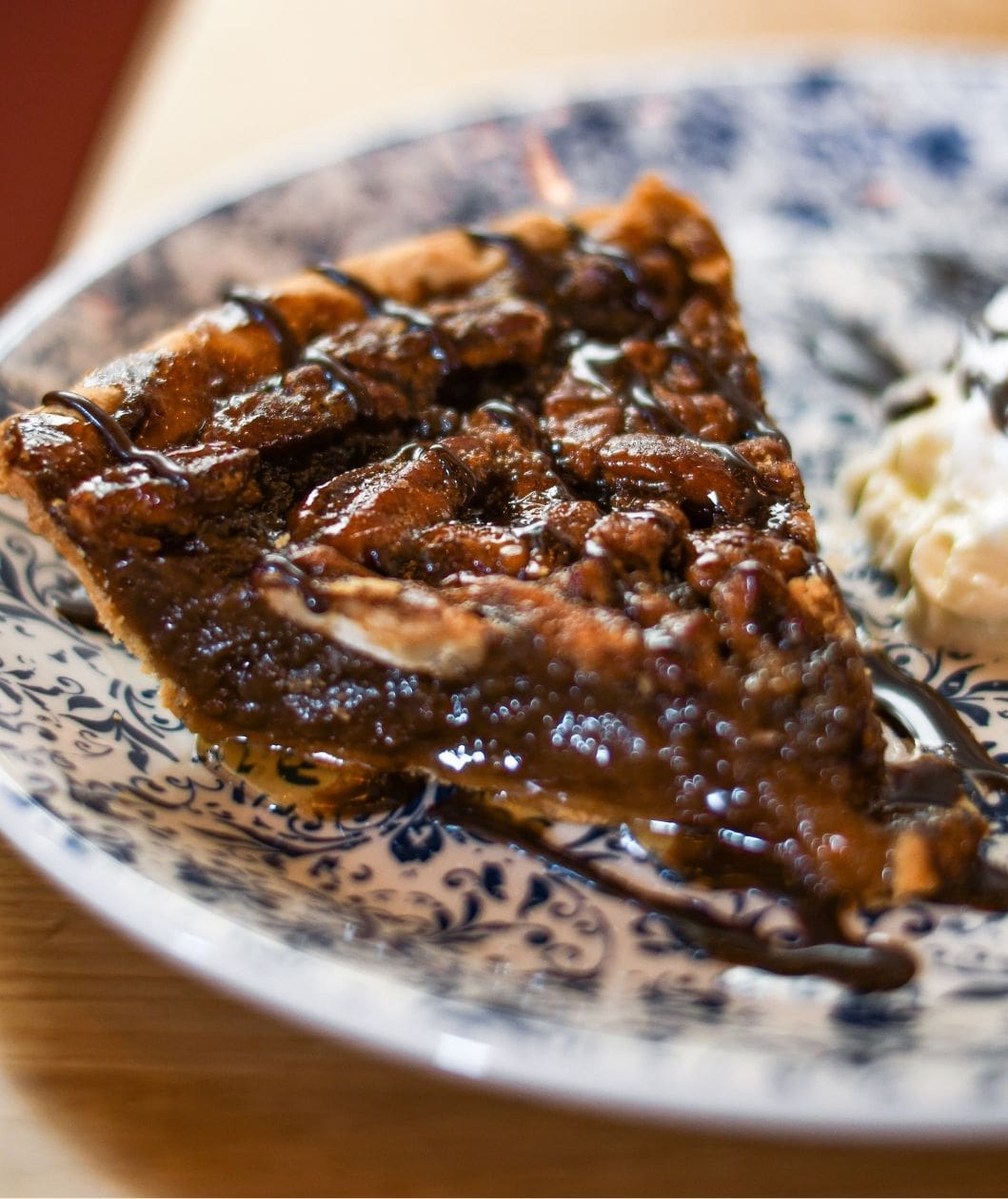 For those with a sweet tooth, Fisher's recommendation of the banana pudding as "truly heavenly" was spot on. Each spoonful of this dessert felt like a slice of Southern paradise. And if you're looking for a close second, the brown butter pecan pie didn't disappoint. It's a sweet symphony of flavors that will leave your taste buds singing.
Preserving Authenticity and Embracing Omaha
Tupelo Honey's ability to preserve Southern authenticity while embracing Omaha's unique preferences is nothing short of remarkable. As Delaney Fisher's descriptions hinted, the restaurant effortlessly blends the comforts of Southern cuisine with a warm embrace of local tastes.
The menu at Tupelo Honey, as highlighted by Eric Gabrynowicz, the Executive Chef and SVP of Culinary & Beverage, captures the essence of the South while respecting the Omaha community's palate. It's a delicate balance that has been masterfully achieved.
Southern Hospitality, Omaha Style: Creating Memorable Experiences
As Fisher mentioned, the inviting ambiance and attentive staff contribute to Tupelo Honey's distinctive Southern hospitality. It's a place where you're treated like family, where each visit feels like a warm embrace.
It is a beautiful space carefully curated to evoke warmth and comfort while you enjoy an elevated approach to traditional southern cuisine and sip on thoughtfully crafted beverages. The staff treat you like family, allowing you to truly feel the hospitality and genuine care they put into every guest experience. ~ Sara Sabaliauskas
We couldn't agree more with Fisher's observations. Tupelo Honey offers a versatile dining experience suitable for any occasion, whether you're enjoying a leisurely brunch, a business lunch, or a romantic dinner. The hospitality here is genuine, and the experience is truly memorable.
Commitment to Community
As our culinary journey through Omaha's downtown came to an end, we couldn't help but wonder about Tupelo Honey's future in this vibrant city we know and love. It's not a locally owned small business but Tupelo Honey is actively working to make an impact on the Big O. The restaurant's plans to test unique menu offerings, collaborate with local breweries and distilleries, and become an integral part of the Omaha community bode well for its continued success.
In the spirit of Fisher's insights, Tupelo Honey has not only brought a taste of the South to Omaha but has also woven itself into the fabric of the city's culinary landscape.
The Essence of Southern Comfort in Omaha
In the grand tradition of our culinary explorations, our journey led us to Tupelo Honey—a place that captures the essence of Southern comfort, warmth, and flavor. Delaney Fisher's vivid descriptions rang true as we savored every bite and embraced the genuine hospitality that defines this restaurant.
So, heed Fisher's words and our own experiences, and make your way to Tupelo Honey in Omaha. It's more than a dining destination; it's a Southern oasis in the heart of the Midwest. A place where warmth, flavor, and hospitality come together to create an unforgettable experience.